Bespoke design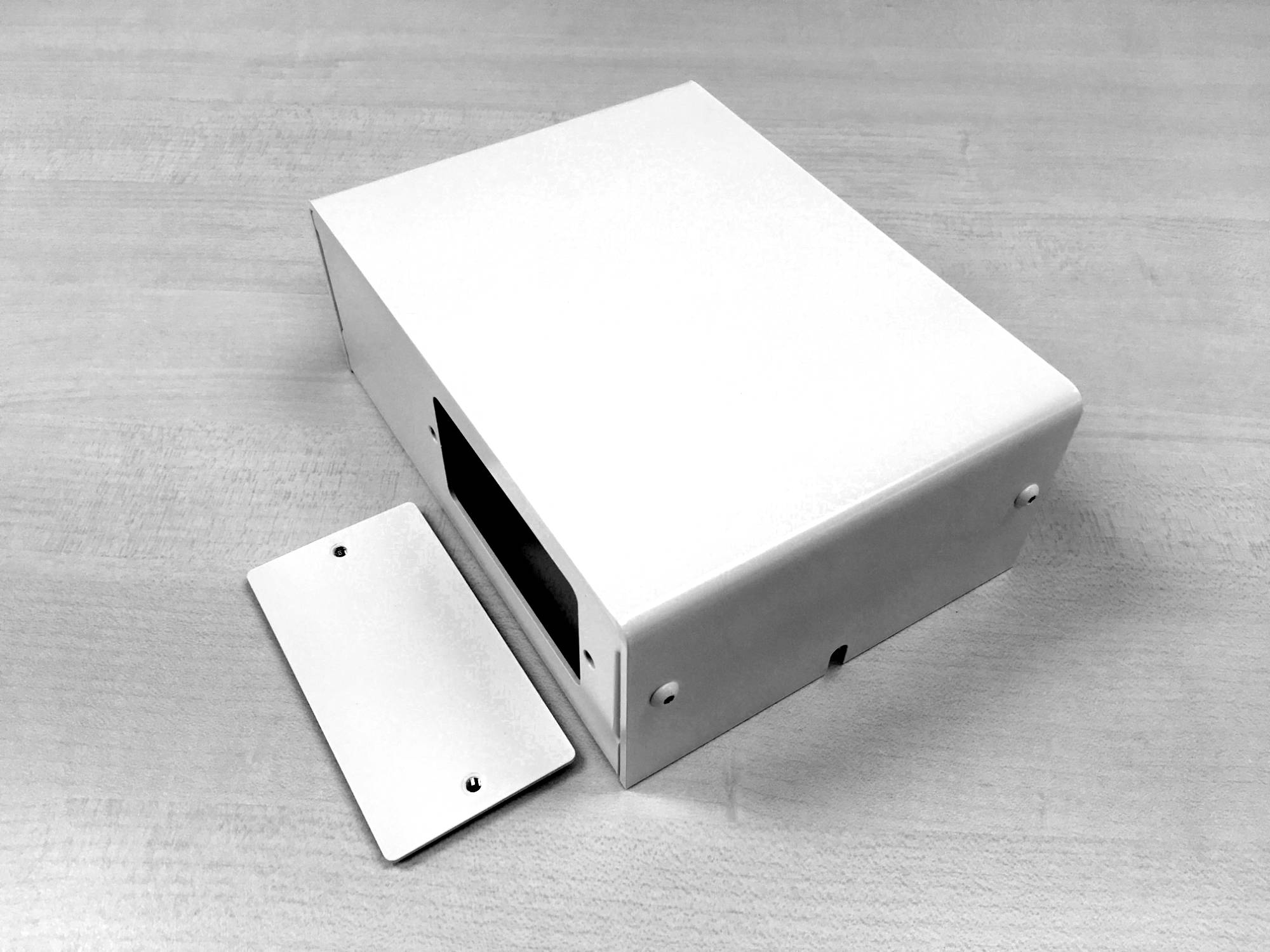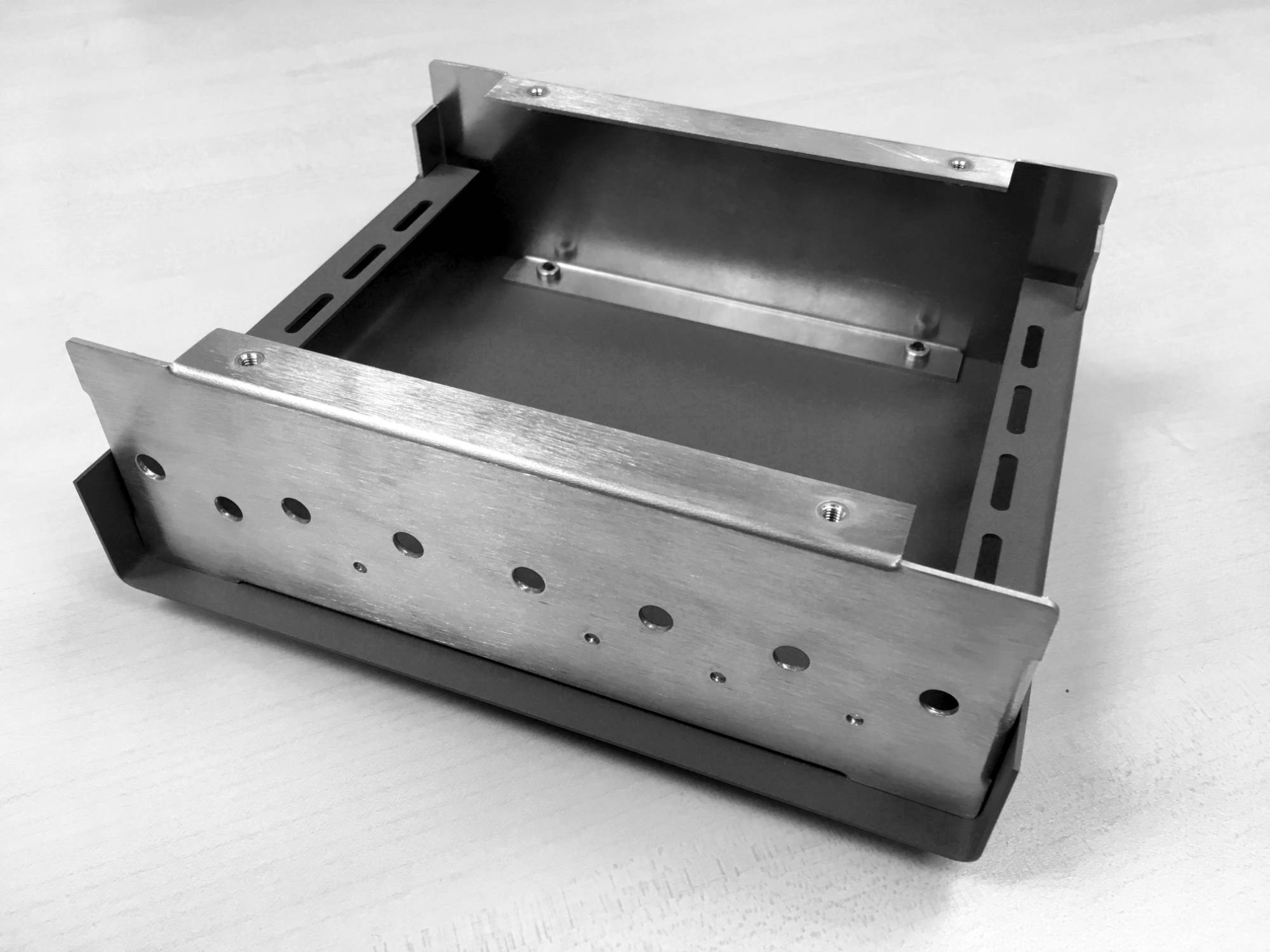 We specialise in bespoke enclosures, cases, racks, frameworks, mounting systems, machine stands/cabinets, chassis, structural assemblies — and just about anything else related to the physical build-out of technical products and integrated systems.
We design and prototype and manufacture and assemble everything in our own facilities, and work with a wide range of partners to provide specialist capabilities.
Core to our design philosophy, we believe in simplicity and ingenuity, and always look to be compatible with industry-standard mechanical, electronic and automation standards. Whatever the industry or application — whether it be a desktop RF analysis instrument or an autonomous warehouse robot — we offer flexibility and adaptability through our ingenious designs.
Learn about our design and prototyping services to help in developing your physical product, or contact us to discuss your needs, and how we can help.
Explore how we can help:
A small selection of the styles and types of enclosures — both large and small — that we can design and make.
CNC Machined Enclosures (inc Aluminium & Plastic)

Folded Sheet Metal Enclosures (inc Aluminium & Steel)

Folded Sheet Plastic Enclosures

Machine Cabinets & Stands

Robotic Workstations

Control Panels

Welded Metal Enclosures

Aluminium Profile Chassis

Risers, Mounting Trays & Structures

Printed, Engraved & Machined Faceplates

3D Printed Parts & Components

Composite Panel Enclosures

Potting Boxes & Resin Sealed
Customisation & Modification
We provide modification and customisation of off-the-shelf enclosures, structural components and parts for your application. From custom faceplates and machining, to coating, labelling and engraving — all backed with our design and prototyping and manufacturing and assembly capabilities.
We offer a wide range of our own pre-engineered designs that we stock or manufacture to order, and in partnership with leading manufacturers we're able to offer a comprehensive range of designs to work with — giving you a starting point to build your physical product.
Explore how we can help:
Precision CNC Machining, Drilling & Slotting

Faceplate Cutouts & Engraving

Vinyl & Polyester Labelling

Custom Colours & Coatings

Standoffs, Mounting Trays & Structures

Fitted Connectors, Cable Assemblies & Wire Looms

Pre-Assembly, Part-Assembly & Parts Kitting
Our facilities
We have well-equipped facilities able to take on even the most challenging of projects, and we tap into a strong network and ecosystem of partners and suppliers. From precision CAD/CAM to CNC machining, metal forming and 3D printing, we're not only capable of designing and prototyping, but we're able to physically engineer, fabricate and deliver finished products ready-to-go.
Whether rapid prototyping to trial early ideas, assembling one-off projects, or all the way up to regular batch manufacture - our facilities are to be found at the centre of every solution.
Applications
We work across many fields and industries, and are excited to supply many leading labs, technology companies and startups.
Explore just a few of the applications our products are used within:
IoT & M2M

Industry 4.0

Laboratory

Automotive

Assembly & Manufacturing

Future Labs & UX Research

Retail 3.0

Research & Education

Robotics

Defence

Interactive Arts, Film, Installations & Events

Energy & Environmental

Agriculture